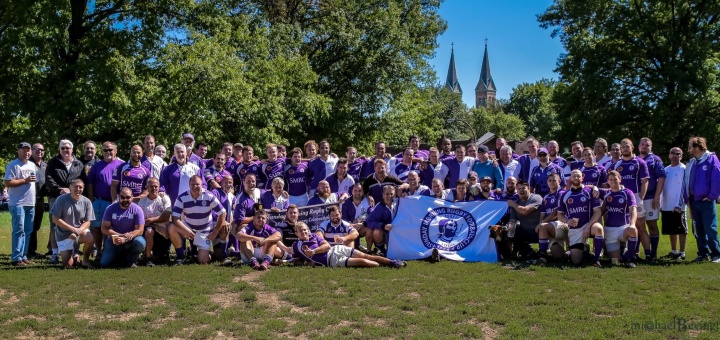 Sunday Morning RFC team is the 2012-2013 Division III Championship Team of the Missouri Rugby Football Union -The team is based in St. Louis but has members from both sides of the river. The Sunday Morning organization has two components… The first is the Rugby Team Membership and is made up of the active players who currently play on a day to day basis. The second is the Rugby Club Membership which is mostly made up of retired Sunday Morning Rugby players, current players, and others who enjoy the sport of rugby. Sunday Morning RFC is the only St. Louis team to have a private club house to host social events and to conduct team and club business. We are always looking for new players! We enjoy introducing new players the sport of Rugby, so no experience is needed. If you are interested in our team please contact us at recruitment@sundaymorningrugby.com for more information.
We always welcome experienced players looking for rugby a club in the area. Foreign players looking for a team are also encouraged to joing our club. Our club has a strong tradition on
the pitch and off with an active social environment. If you are new to the sport of rugby, if you are an experienced player, if you are and old boy looking for a few friendly matches, or if you are retired but wish to be around rugby there is a place for you with our club.
Walk on players are always welcome. No experience needed. These are some answers to questions which we are frequently asked by prospect players who are looking to learn about rugby.
Rugby has transferable skills. If you have played a competitive sport in the past, you might be an excellent rugby player. Some, but not all of these skills are: agility (basketball, soccer and football) speed and quickness (track, football, basketball, volleyball), hand eye coordination (lacrosse, golf, basketball, baseball / softball / field hockey), foot skills (soccer, football) anaerobic endurance (lacrosse, track and x country, soccer, field hockey), strength and power (football, weight training).
Not all of our players have all these athletic abilities, but they all have one or two. Like most sports, rugby has positions which allow the athlete to highlight their specific athletic skills. Many of Sunday Morning Rugby Club players have ever seen, let alone played, the sport before joining our club.
The idea that rugby is a "vicious" or overly rough sport is a myth. Tackling in rugby is only allowed by wrapping your arms around the opponent (no diving or propelling of the body) and blocking is not allowed.
Of course rugby players get injured; however there are many sports with much higher injury rates. While this is a difficult statistic to measure, at least one study showed that rugby isn't even in the top 30. (National Injury Clearing house; Consumer Products Safety Commission)
Sunday Morning Rugby Club have a great tradition of rugby… if you are interested in our team please contact us at recruitment@sundaymorningrugby.com for more information.
We practice on Monday and Wednesday night at 6:45pm. Practice is in the Fall (Mid Aug thru mid Nov) and Spring (Mid March Thru Mid May). We play Sevens in the summer.
Main Practice Field 4354 S Kingshighway Blvd.
Secondary Practice Field Marquette Park..
Home matches are played at Marquette Park. South City St. Louis on Saturday or Sunday starting at 1:00pm. Most matches are played in the St. Louis Metro area.
We currently try to run two Div. III Rugby Sides. Our Purple side is SMRFC's competitive team that has been one of the top teams in the league for the past few years. Our White side is our developmental/social team, where we teach new players the sport of rugby and veterans can still get some match play, and pass their knowledge to those learning the sport.