Overview
On a dark Sunday morning, in 1974, four veteran players from a North St. Louis rugby club and Harry Langenburg, a rugby enthusiast, met in Forest Park. The player's pockets were empty, but Harry was willing to put up the money to start a new club — The Sunday Morning Rugby club. Procuring players from other teams plus a few upstart rookies, they banded together to form a "competitive" team. Sunday Morning Rugby Club has continuously maintained a strong rugby presence in the city of St Louis since the club's inception. SMRFC won the 2013 D3 Championship and went to Westerns that year, coming 4th.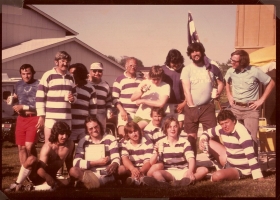 SMRFC is the only rugby club in the city of St. Louis to own and maintain a clubhouse. The current clubhouse, on Gravois Avenue in the Bevo area, was a dilapidated building in part of the distressed, but now resurgent, Southside neighborhood. The club members and their supporters have renovated the building helping to enliven "their neighborhood" and further strengthen their bond to the community, each other and love of Rugby. For members and opposition alike, the rugby clubhouse is a big draw, and our hosting capabilities are legendary.
Sunday Morning, a non-profit organization, is involved in the local community through many aspects, but we especially like to undertake charity work. Traditionally, we have events to honor those who have passed away, with the proceeds going to Southside institutions such as the Southside Daycare – which provides community support through income moderated child-care – and the Bevo Food pantry.
The team travels every two years to an international destination to promote rugby and good-will. Past trips have included England, Wales, Spain, Jamaica, Ireland in 2008, Argentina in 2010, Germany in 2012, and most recently Playa Del Carmen (nr. Cancun), Mexico in the summer of 2014. Read more about that here. Suggestions for the next trip are always welcome.
Club House History
Since the inception of Sunday Morning Rugby Club the team has maintained a "Club House" for social events and conducting team business. We have monthly board and general meetings, and it is great to do this in a comfy, relaxed place that many call 'home'. Over the years, having this base has developed into the social Club side of Sunday Morning Rugby, which members include retired players, present players, and those who have a love of the sport rugby. You do not have to play to have Purple running through your veins!